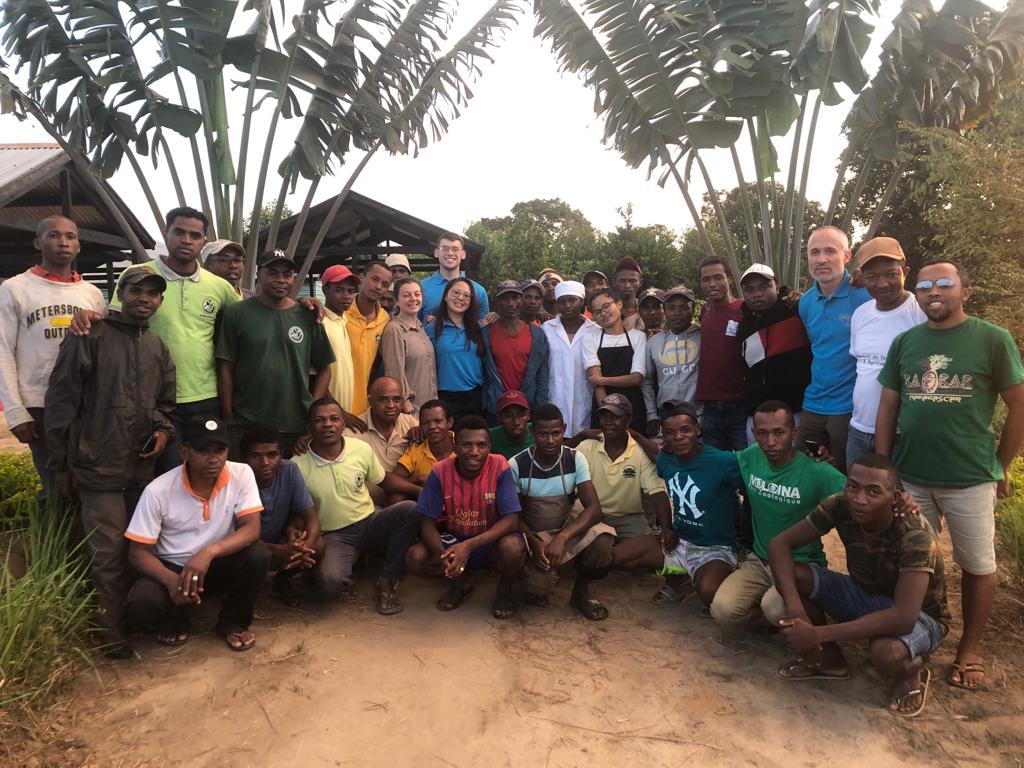 On the road to success for a restoration project in a protected area, there are many components to consider. But the most important is the nurseryman: how do you define a nurseryman? how do you guide him along the road to success? how do you deal with pests and diseases? .... So many answers to seek.
Thanks to other NGOs, Madagasikara Voakajy (MV) has not been alone in this quest. Madagascar Fauna and Flora Group ( MFG ), Missouri Botanical Garden ( MBG ) , Chester Zoo ( CZ ) were there to help each other on this long nurseryman's journey. Each of these organisations already has years of experience in nursery and restoration work in protected areas. To share, this coalition organised a nursery exchange project (NEP) with 3 specific objectives: to share the experience of each entity, to learn from each other, and to build a network for the nurserymen in the coalition.
Before and in the middle of the trips, the group had the chance to visit other excellent work such as the Graine de vie nursery in Betsizaraina, the SAF FJKM fruit nursery in Moramanga, the Avotr'ala forest nursery in Moramanga, and Mr Armand's organic pot factory in Ranomafana Est. In short, the NEP project lasted 16 days, including travel, and began from 16 to 31 May 2023. The workshop itself lasted 6 days, based on techniques and management of nurseries and planting. 3 days were spent in the Mangabe-Ranomena-Sahasarotra protected area, in the Antsily camp, Moramanga district. Some members then travelled to Parc Ivoloina, in the Toamasina district, for another 3-day workshop on the same theme. The participants were nurserymen from the coalition and restoration managers from each entity. The discussions were very practical, immersive and respectful. Jocelyn, one of the MV Nuseryman, told us: "It was very practical and I learned so many new techniques that can be applied in our nursery, I'm ready to put them into action".
It is hoped that all the 27 participants from Ivoloina, Mangabe, Sambava, Vangaindrano and Agnalazaha, as well as horticulturalists from Chester, will apply the shared techniques and remember the principles. The participants hope that another nursery exchange will take place next year on a different theme. As planned, MV, CZ, MFG and MBG will evaluate all participants on the techniques applied.
Finally, all the participants agreed that a nurseryman is a person who is ready, willing and able to manage the nursery and the plantation. This common definition encompasses all the work of a nurseryman.
None of these activities would be possible without the contribution of our partners, to whom we would like to extend our warmest thanks
Chester Zoo for funding and organisation,
MBG for the knowledge of 20 years experience shared with us
MFG for the warm welcome and experience given to our first year nurserymen
Grain de vie for welcoming us to Bestizaraina,
SAF/FJKM Moramanga for giving us courses on nursery management and life lessons.
Avotr'ala Nursery in Moramanga for the knowledge you passed on
Mr Armand Ranomafana Est for your kindness and time.
We hope to walk with you closely on the path of nurserymen, from seed to plantation
--------------------------------------------------------------------------------------------------------------------------------------------------------------
Le parcours des pépiniéristes, de la graine à la plantation
Sur le chemin de la réussite pour un projet de restauration dans une aire protégée de nombreuses composantes sont à prendre en compte. Mais le plus important est le pépiniériste . comment définir un pépiniériste ? comment le guider sur le chemin de la réussite ? comment faire face aux ravageurs et aux maladies ? .... Autant de réponses à chercher
Grâce à d'autres ONG, Madagasikara Voakajy ( MV ) n'a pas été seule dans cette quête . Madagascar Fauna and Flora Group ( MFG ), Missouri Botanical Garden ( MBG ) , Chester Zoo ( CZ ) étaient là pour s'entraider dans ce long voyage des pépiniéristes. Chacune de ces entités partenaires ont déjà des années d'expérience en pépinière et en restauration dans une zone protégée. Pour partage, cette coalition a organisé un projet d'échange des pépinièristes ( NEP ) avec 3 objectifs spécifiques : partager l'expérience de chaque entité, apprendre les uns des autres, construire un réseau pour les pépiniéristes de la coalition.
Avant et au milieu des déplacements, le groupe a eu la chance de visiter d'autres excellents travails comme la pépinière Graine de vie à Betsizaraina, la pépinière fruitière SAF FJKM à Moramanga, la pépinière forestière Avotr'ala à Moramanga, la fabrication de pot biologique de Mr Armand à Ranomafana Est. En somme, le projet NEP a duré 16 jours avec le déplacement, il a commencé du 16 au 31 Mai 2023. L'atelier proprement dit a duré 6 jours basés sur les techniques et la gestion des pépinières et la plantation. 3 jours ont été passés dans l'aire protégée de Mangabe-Ranomena-Sahasarotra, dans le camp d'Antsily, district de Moramanga. Ensuite, certains membres se sont rendus au Parc Ivoloina, dans le district de Toamasina, pour un autre atelier de 3 jours sur le même thème. Les participants étaient des pépiniéristes de la coalition et des responsables de la restauration de chaque entité. Les échanges ont été très pratiques, immersifs et respectueux. Jocelyn l'un des MV Nuseryman nous a dit : " C'était très pratique et j'ai appris tellement de nouvelles techniques, applicables dans notre pépinière, je suis prêt à les mettre en action ".
Dès lors, nous espérons que les 27 participants d'Ivoloina , Mangabe , Sambava, Vangaindrano ,Agnalazaha, ainsi que les horticulteurs de Chester appliqueront les techniques partagées et se souviendront des principes. Les participants espèrent qu'un autre échange des pépinièristes aura lieu l'année prochaine sur un autre thème. Comme prévu, MV, CZ, MFG et MBG feront une évaluation de tous les participants sur les techniques appliquées.
Enfin, tous les participants ont convenu qu'un pépiniériste est une personne prête , chargée de la gestion de la pépinière et de la plantation. Cette définition commune englobe tout le travail d'un pépiniériste .
Aucune de ces activités ne serait possible sans la contribution de nos partenaires, dont nous tenons à remercier chaleureusement:
Chester Zoo pour le financement et l'organisation,
MBG pour la connaissance de 20 ans d'expérience partagée avec nous
MFG pour l'accueil chaleureux et l'expérience donnée à nos pépiniéristes de première année
Grain de vie pour l'accueil à Bestizaraina,
SAF/FJKM Moramanga pour nous avoir donné des cours sur la gestion des pépinières et les leçons de vie.
Avotr'ala Pépinière à Moramanga pour les connaissances transmises
Monsieur Armand Ranomafana Est pour votre gentillesse et votre temps.
Nous espérons marcher avec vous de près sur le chemin des pépiniéristes, de la graine à la plantation.