A new project to promote sustainable management of the Grandidier's baobab for people and biodiversity benefits in Menabe Region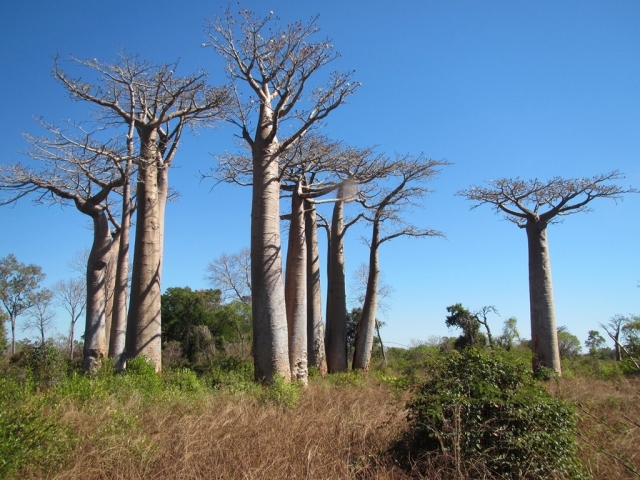 Endemic to western Madagascar, the Grandidier's baobab is featured on most documents and programs about Madagascar. It is Madagascar's number one tourism attraction. Recent research also demonstrated the nutritional values of baobab fruits and its potential in the cosmetic domain. Locally, baobabs also have values for the communities: fruits are consumed, leaves and bark are used in traditional medicines, and the bark is also used to make ropes and for house construction. There are also some trees which have cultural values as they are considered sacred.
Due to habitat degradation and absence of natural regenerations in the wild, this species is classified as Endangered on the IUCN Red List. Madagasikara Voakajy started working on the Grandidier's baobab to study its pollination in 2005. As the fruits are opening in early evening, the Madagascar flying fox – Pteropus rufus is the main pollinator of the species. While carrying out this study, we also observed bark harvesting and we investigated its extent in 2011-12. With support from the Global Trees Campaign, we also promoted the conservation of the species through providing communities with the rights to manage baobab forests, educating kids to plant baobab trees and identifying trees with cultural values.
Considering the potential of the Grandidier's baobab to combat malnutrition and poverty in Menabe Region, we piloted in 2016-17 a project to help local communities to produce high quality baobab powder and jams. This project was supported by the Critical Ecosystem Partnership Fund, and implemented with Label CBD Consulting. The results demonstrated that the two communities targeted are able to produce consumable baobab powders.
During the next three years (2018-21), with support from Darwin Initiative and Global Trees Campaign, we will expand this project. At three pilot sites we will establish a sustainable harvesting and trade of the baobab fruits (including less threatened baobab species in the same forest) in order to improve regeneration in the wild and reduce poverty and malnutrition. We will reinforce baobab populations and integrate sustainable harvesting agreements into existing natural resources management plans. In parallel, we will empower communities to collect, process and trade baobab products to existing markets. As a co-benefit, we will improve access to nutritious baobab powders through the hungry months. This project will project will provide a better insight how two international conventions, CITES (https://cites.org/eng) and ABS (https://www.cbd.int/abs/), can be implemented for people and biodiversity benefits in Madagascar.