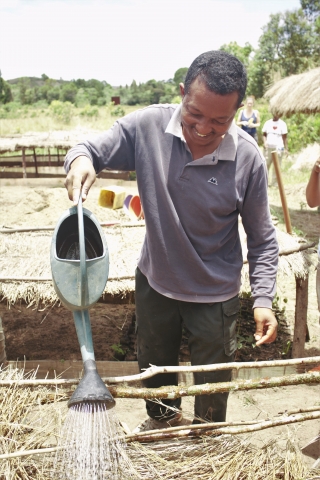 Name: Pierre RAZAFINDRAIBE
Responsibility: In charge of the golden Mantella (Mantelle aurantiaca) reintroduction in Ambatovy. Meanwhile, Pierre is in charge of implementing MV`s research activity in the field such as lemurs and Phelsuma pronki.
How did your journey with Madagasikara Voakajy start?
I always wanted to work in the biodiversity conservation area as I studied conservation biology and I was passionate about Madagascar biodiversity. My work as MV`s staff started on October 2011 to run the salvaging of the golden Mantella in the mining site of Ambatovy project and transferred to the conservation area in the same site.
What do you most appreciate in your job?
I like doing field work and being in touch directly with forest and animal. I feel very lucky to have this opportunity to make a change in the world by doing my job as a conservationist.
Do you have a favourite species?
Mantella aurantiaca as this species couldn`t be found anywhere else than Moramanga area in the world. Also, their colour due to the alkaloid from the insect that they eat is amazing.
What is the biggest challenge in your job?
Dealing with the habitat loss of the species is very challenging as we are in the region where Tavy is very common. Because of that, the species abundance decrease and might lead to species extinction. Also, it was the first time that we reintroduce Amphibian species in Madagascar. So, we didn`t have any reference here in Mada and it was very stressful.
A message to Madagasikara Voakajy's partners and followers?
I would like to thank all our partner and founder to helping us on the biodiversity conservation in Mangabe protected area and all around Madagascar. I hope that, our collaboration will continue for a long time and MV team will do their best to conserve the golden mantilla in our region and other species in our country.