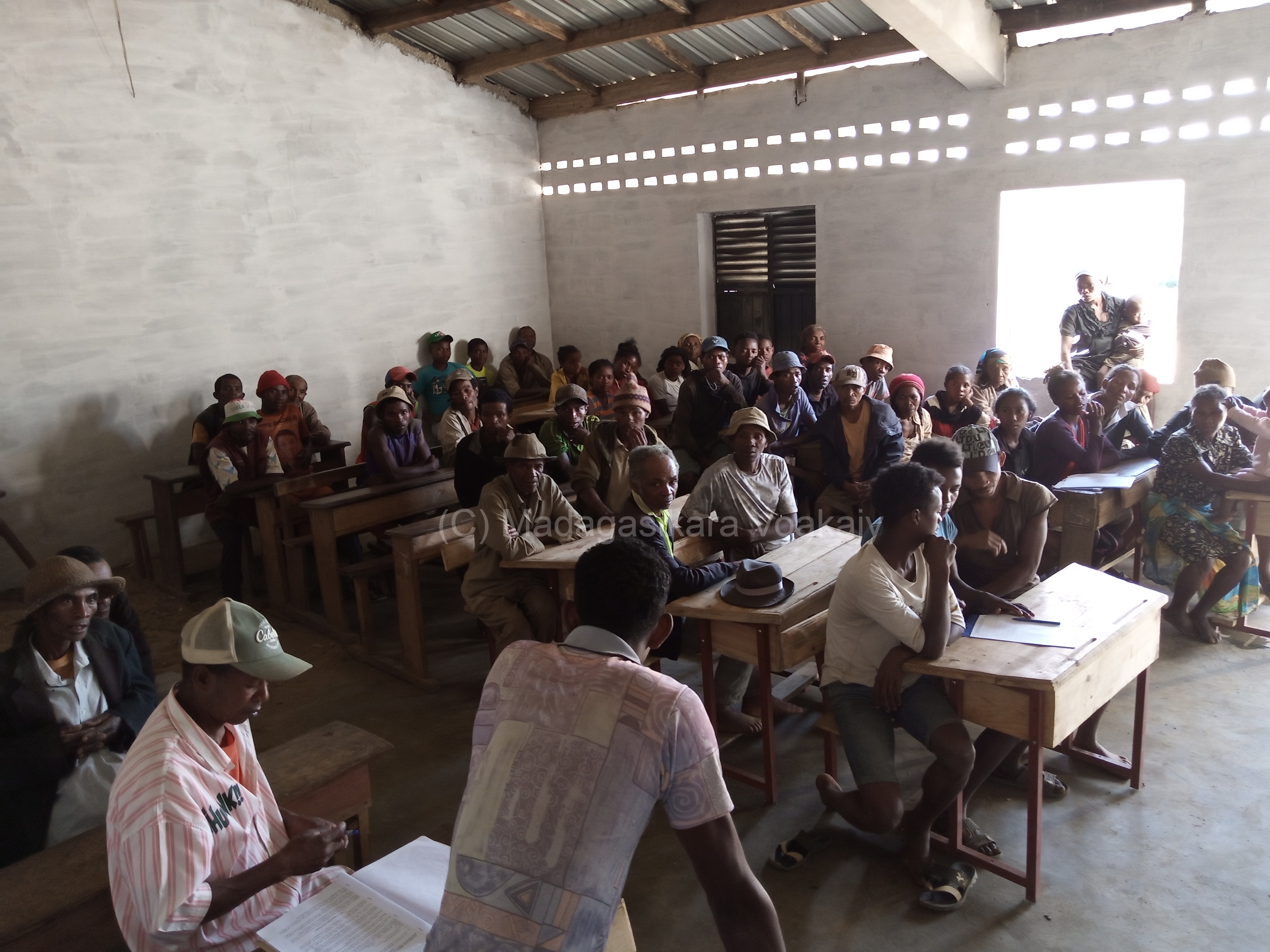 On 3rd December 2021, the official launch of the project: "Enabling youths to lead lemur conservation in eastern Madagascar" funded by the Darwin Initiative was held at the Diamant Hotel, Moramanga.This project follows initiative since 2016 to support youths to become lemur conservation ambassadors in Mangabe Protected Area.
This project tackles a key driver of Madagascar's accelerated biodiversity loss: the growing population's need to clear forests for agriculture. Around three Reserves in eastern Madagascar (Mangabe-Ranomena-Sahasarotra Protected Area, Ankeniheny-Zahamena Corridor, and Analamazaotra reserve), we will equip 200 youths withthe knowledge, skills, and experience needed to increase yields through sustainable farming, adopt aromatic and medicinal plants in their farming systems and market their products with ethical enterprises. Youths will share their knowledge, skills, and experience in their communities and will engage all members in lemur conservation stewardship.
The aim of the workshop was to inform the project at the regional level and to present and discuss with all the partners the different strategies, approaches, roles and responsibilities of each concerned to achieve the objectives of the project. This workshop was attended by the Head of Moramanga District, the Mayors of the Commune of Mangarivotra and the Commune of Lakato, the representatives of the Commune Ambohibary, the Head of the Circonscription de l'Agriculture, de l'Elevage et de la Peche (CIRAEP) Moramanga, the representatives of the Delegation de Jeunesse et Sport (DELJS) Moramanga, the representatives of the Gendarmerie Moramanga, the Director of the Ankeniheny-Zahamena from Conservation International (CI), the journalists from RNM and TVM Moramanga, and the partners of the project including Label CBD, Mitsinjo Association, Money For Madagascar (MFM), and Madagasikara Voakajy (MV).
Following the workshop, MV and Mitsinjo Association teams carried out fieldworks between 5th and 21st December 2021 to launch the project at the local level. Twenty villages around the three reserves were visited and twenty youth groups expressed their dynamism to participate in the project for three consecutive years.
This project was developed by MV, Label CBD, MFM, and Mitsinjo Association, funded by Darwin Initiative. The project is being implemented in close collaboration with these partners, technical services and local authorities in Moramanga District, and the local communities around the three reserves.
We also thank the IUCN Save Our Species for supporting youths 'initiatives to conserve lemurs while improving their livelihoods.