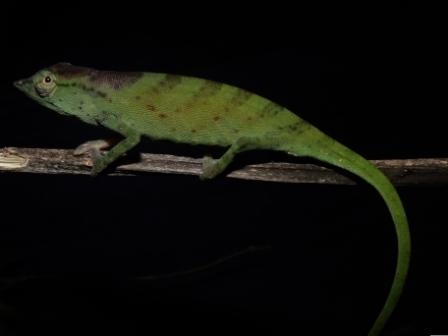 Calumma tarzan, or Tarzan's chameleon, was discovered in 2009 in the Anosibe An'Ala district.Subsequent research shows that this species is endemic to the district, where it is only know from three small forest fragments: near the village Tarzanville, Ambatofotsy forest and Ampotaka forest.
Distinguishing features and ecology
This is a small chameleon, measuring only 119–150 mm in length from the end of its nose to the tip of its tail. It has a rather rectangular-shaped head without a prominent nasal appendage and like
This species inhabits humid forest fragments in eastern Madagascar, at elevations between 800 m and 1020 m above the sea level. At night, it is inactive and perches on low-lying vegetation up to 4 m above the ground. Less is known about its daily habits but it is thought to forage in small trees and shrubs. The observed breeding season takes place between March and April.
Threats
The species has been assessed as Critically Endangered on The IUCN Red list of Threatened species and was featured in the world's top 100 most threatened, but neglected, species. Its survival is mainly threatened by slash and burn farming at the forest edges. Additionally, people practice selective logging in some areas in the forest and illegal artisanal gold mining. Until now, no collection from the wild for commercial purpose has been reported for this species.
Conservation Initiatives
This chameleon is one of the priority species for two new protected areas in Madagascar: Ambatofotsy and Ampotaka/Ankorabe. These sites are managed by Madagasikara Voakajy on behalf of the Ministry of the Environment, Water and Tourism and local communities. The long-term survival of Tarzan's chameleon is therefore inextricably tied to the future of these small forests.
External links
https://www.zsl.org/sites/default/files/media/2014-02/priceless-or-worthless-final.pdf
http://www.iucnredlist.org/details/193482/0
http://www.arkive.org/calumma/calumma-tarzan/#src=portletV3api
http://reptile-database.reptarium.cz/species?genus=Calumma&species=tarzan
http://eol.org/pages/21631086/overview